On one of the hottest days of August in the year of 1971, a fair Pitty Sweet made her red-carpet entrance into the world. The stories of a difficult birth were told for years, but one thing that was often mentioned was that young Pitty was born quite round.
Survey said she was so round that she could easily roll down the hill to the very bottom on her very own. Her mother insisted on red frilly dresses, but her grandmother not caring for the colour red, put brown dresses on her all almost every single day, and if anyone looked twice they might mistake Pitty for a delicious brownie.
At school Pitty was always was teased for being round. The more she was teased, the more she ate and the rounder she got. Pitty ate and ate and ate until she couldn't feel the pain anymore; as after all no one likes pain.
When Pity got older she never dated like the other girls but she really liked a boy who had freckles and dreamed he might one day become her prince. He was THE prince, HER prince that would take away the pain and they would live happily ever after.
One night she gathered up great courage and went to the school dance wearing a beehive hairdo, a gray pleated skirt and a gray sweatshirt, as it was the best one could do if you looked like a brownie.
Slowly she walked over to where he sat with the other boys and with a small tiny voice she asked him to dance. Her prince yelled "no" very loudly and he and all the other boys began to laugh. Pitty slowly turned around and ran out the gymnasium door. She walked until her feet could carry her no more and wanted her heart to stop hurting. Pitty needed to think long and hard before she ever tried that again.
One day Pitty Sweet discovered that if you did not eat you might get thin and maybe boys would love her if she looked like a stick. For days and weeks she barely ate and got so small that all those that had laughed at her suddenly liked her now. How stupid is that?
The cutest boy in school walked her home one day and kissed her hard until she was over the moon. Pitty actually circled the moon twice until she found out he wanted things she didn't want to share. With all her might Pitty kicked him into an oblivion of wasted space. Good riddance, adieu, farewell, sayonara!
"That's what you do to wasted space!" she said. But do you?
Pitty tried for years to stay thin but she was slowly dying trying to be thin. One day she gave up and started to eat again as sometimes you hurt so badly that nothing else helps. Pitty Sweet finally gave up trying to be thin. She could not seem to stay thin without hurting herself and she had to understand that she would never be like Barbie, Midge or Skipper. Now, that's just plain silly thinking!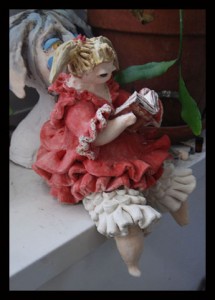 One day Pitty really wanted to harm herself so she opened one of her old story books and pleaded with them to swallow her whole and stop the hurt. But in all honesty you can't bury the hurt and you most certainly can't kick it along. No Prince Charming is going to make you a better person, or the girl you want to be. So Pitty looked at her round face in the mirror and decided she was going to be different from everyone else. There would be no more hurting because from the time the sun came up until moon went down she was always going to be herself.
After all everyone loves brownies!