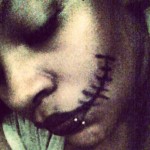 Your mouth cuts deeper than the sharpest blade…
so kiss my wrists and hope my heartbeat fades.
What's one sunny day to endless rain?
A muffled cry for help…in vain.
That blood on your fists, I know is mine
But fake the love and i'll be fine.
Hmm? I said ill be just fine.
Just lie to me most every time.