In the mood for some Hicks today…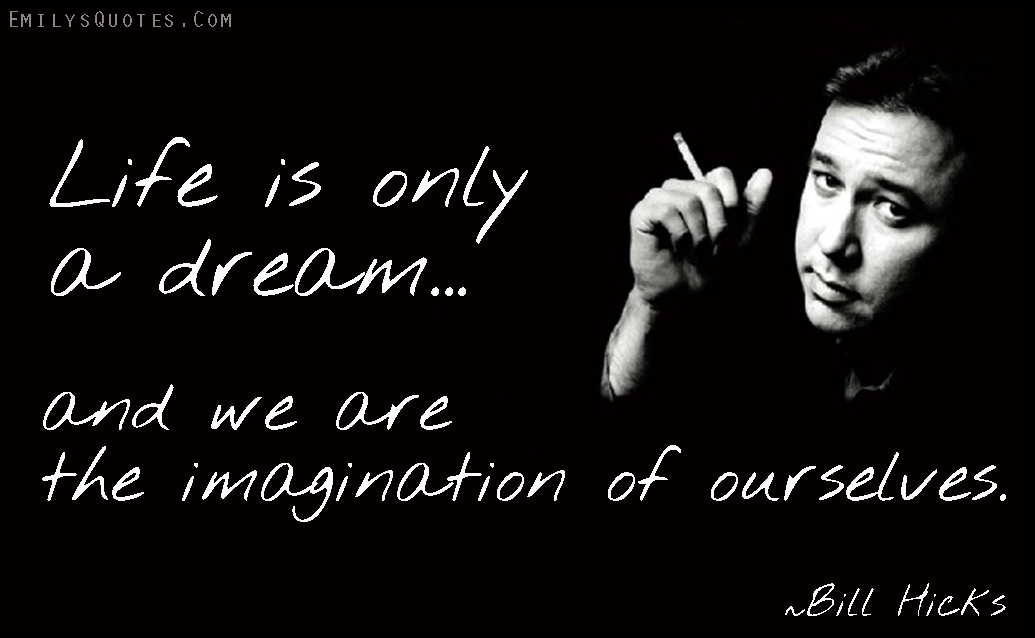 heads up everyone, i ramble. i feel nothing and at the same time i have so many thoughts that i cant think, so this is basically emotional throw-up. read it. or dont. im mostly just putting my thoughts down so that i can understand them better myself.
i was angry and sad today, as i often am, and stumbled across this site. whoever started it, kudos to you, because its nice to talk to people who understand, rather than broken records saying 'dont be depressed, be happy'. lovely, i will just do that then. oh wait, i dont know how. its not a simple thing, though it seems like it would be. we are, after all, in control of our emotions, right? nah. humans have been dependent on other humans since our beginning, whether we like it or not. i am dependent on my mother which is like a slap to the face, because im pretty sure she is why i am like this. if i tell her how depressed and lonely and awful i feel, and the thoughts that i have been thinking, she say's theres something wrong with me. no duh, mother, yet you refuse to ease up on me. i know everyone has stress in their lives, and there is no such thing as control over it. there are only outlets to relieve it. when you dont have outlets, no matter how much and what kind of stress you have, that is when the situation gets bad. but i dont have outlets; i have escapes. i dont know how to let go of the bad, i just know how to overlay it with good for a short little while. a temporary fix to my depression, but temporary is temporary, and i cant escape forever. when im done being temporarily happy, i feel worse than i did before. i want a way to make that feeling permanent. books are a big escape for me. i can get lost in someone else's story, and experience their problems, and its nice. and i can flip through the pages any time i want. and photography, oooh that a huge one. i take pictures because my forever is probably different than yours. to me, forever is just a pretty word whispered between lovers, it doesnt exist in that sense for me. my forever exists in moments. they are branded along my timeline. and with pictures, i can go back whenever i want. i guess that is how the living learn about dying. when we begin to want things to last longer than they do. we are alive, and the only certainty we have is death. a very curious thing, or at least to me. we are at the beginning, and the only thing we know for sure is that there is an end.
something that can make me really sad is good memories, of people and places i loved and lost. along the way we unconsciously infuse everyone and everything with memory, and i find it hard to let go of things that hold great meaning for me. i dont think it is pure sadness though, because i think about those times with a smile on my face. but right after that i remember that it is past, and my happy expression disappears. it is more of a reminiscing sadness. happy-sad, if you will. you are happy and then you are sad. a peculiar mix of the two, i dont know how to describe it, but it is the most feel-y feeling i have ever felt. you love and then you lose, because that is the natural order. loss always comes after love. because if you think about it, the past is the only tense that exists, if you look at time as a physical thing. it will never not be today, and on your last today, you will remember all the yesterdays. there will be an end, and at the moment when it ends, when you are nothing, there is no future or present; only past. and everything and everyone in your life will be in it. life is a string of friends that you have met along the way, and it ends with them at your funeral. which is why i dont like making new friends. a bad friendship ends with us parting ways, and a good one ends with them dying. a good past makes a sucky present, or at least that's what i've found. i also find old people confusing for that reason. they have lived a good long life, about ready to die of natural causes and such, but how do they keep going at that stage in life? when i listen to their stories of their past, they are so full of adventure and happiness, and are told to me with a smile. yet here they are now, a shell of their former selves, in body and mind, each day a gentle echo of the one before. green grasses and loyal lap dogs and tv shows that no one else watches. i dont know how i could live like that. when my legs are too frail to ever again run in a meadow, when i am too blind to see the stars at night, when i am too deaf to enjoy the music i am so dependent on. im terrified of it.
guess im scared to grow up. sooner or later, i will have to deal with all the stupid things i have done without doing more stupid things. all my dreams have turned from when's to if's to that-would-have-been-fun's. these days, everything is grey. the bad blends in with the good. i dont hate it, and i dont love it either; i just dont care. hate and love are nearly the same, i suppose, but indifference is opposite of both of them. a very dreary feeling, while both love and hate burn bright and hot. the world looks different to me now. my eyes are open. i can see the flowers on the side of the road on which i am walking down, pretty and in full bloom, but i know they will wilt soon. and i pick some up to take with me, to keep some of the lillies for when im surrounded by tulips, just to have some memory of the past. they still die out, but now i have to watch it happen in my very own hands. i guess thats what good memories are though. bits of the past that you etch into your mind, to be able to go through when those feelings no longer exist for you. you hold them in your brain and they wont go away, and suddenly im wondering if theres a way to erase all the good so i can be more at ease with the bad. now i am stuck with all these inside jokes and secrets from people in my past, and i cannot sell them because they only hold meaning to me. my ribs are built like a cage around my heart, but even they do not protect me from the things i willingly let in, because they were good when i did. but the meaning has changed. every happy memory i have now has a sad over-coat to it.
the thing with me though is that i will never ever put a gun to my head, i will never slit my wrists. i refuse to go out that way. i refuse to have my light bulb just die out. if its going to go out, its going to freaking explode. i do things on my terms, and what i do is i take risks. if i am feeling suicidal, i will walk around in sketchy neighborhoods at night. i will listen to music and walk along busy roads. i will climb high into the trees in the woods, they go easily over a hundred feet up. i sit at the tippy top, and think to myself 'i would die if i fell right now'. and then i climb down. there is a good chance that i will fall, but i will never jump. i leave it to chance. a risky game i play with death. only one person knows this about me, and her words are always the same: pain is temporary. thank you, miss wise and all-knowing karen. so is comfort. and it is a never-ending loop. by the time you have had time to bask in one end, you are thrown into the other.
so i have felt this way for a while. my mom thinks im stupid, should never have been born, yells and hits and what scares me the most is that she used to be my best friend. but nowadays i avoid her as much as i can, because every time we talk we fight. my dad is being worked to death at his job, and i have no way of helping him because we need that money. so my dad comes home from work to be confronted by mom, who starts yelling at him, telling him how awful i am, saying that i must get it from him. he does more stuff around the house than she does, and she doesnt even have a job. unless of course facebook counts, she is on that at least 8 hours a day. he is stressed and i dont know what to do about it. i think he started smoking again, too. i can no longer focus on school work, the teacher tells me something and i forget it a second later. my mind is deteriorating and i can feel it happening and im scared. my friends can tell that i am not the happy, crazy little jitterbug that i used to be, but then i feel bad for making them worry, which also adds to my stress. i eat less. i barely sleep. i am not allowed to hang out with friends, so i dont have much social interaction.
it feels like nothing in my life holds weight anymore. it feels like what i am going through now is just filler crap, a book that was written for the purpose of showing off the beginning. i am more afraid of living through the rest of it than i am of dying, of just closing the book without finishing it. i miss the good old days. i miss living through each one of them, not knowing how special they would end up being to me, oblivious to their importance. i miss my grandmother's summer house in Gaeta, Italy, where i would throw on her ugly flower coat early in the morning to go to the baker lady, Nina. i would teach her english words, and she would give me stale bread from the day before so i could feed the pigeons in the park. i miss hiking with my dad. i miss kindergarten show and tell. i miss being a kid. i think i was more me as a kid. now im just here. i exist, but i am invisible. i can see others, but they cannot see me. i am still dragged along with the rest of the world, with one obvious way out, and its taunting me. i keep as much distance as i can from that door, but i can still see it, and it beckons. i cannot stop the world, and the earth just keeps on spinning, and that damned door is still just there. my life is just a small thing, on a small planet, in the midst of other bigger planets, in a solar system, in a galaxy, in a small, insignificant part of a universe thats almost 14 billion lightyears old. i think the most accurate length currently is 13.7 or so, and i will try not to geek out, but for those of you who dont know: looking farther into the universe is literally looking back through time. because in the time that it takes for that light to reach us, the object itself has changed. say theres a star 100000 light years away. that means that the star you are looking at, you are looking at how it was 100000 years ago. it could have died by now. kind of how my life feels, if this analogy even makes sense. i remember the past, i can see it, but its getting farther and farther away, and i dont want to let go of it. i have a bad habit of drowning in thoughts and memories. lots of the stars you see in the night sky are dead. i learned this forever ago, but i ponder it often, and i have officially gone mental with this post i dont know what is happening.
i think it was healthy for me to get that all out. if you got this far, congrats; i just wasted half an hour of my life writing this down, and you wasted 5 minutes reading it. or maybe you didnt. maybe it helped. i dont know if this was me trying to pour out some of my problems or offer advice or just explain how i see things (i think mostly the third to be honest) but oh well. have a good day. watch supernatural. love castiel. and for all you out there thinking that you should just end it, think of it this way: our lives are silly and meaningless on their own. if only one person existed, he would be even less important than the entire human race already is. you know why? because we are not special on our own. we dont matter in the whole of the universe, and the universe does not care. we can only care about each other, and give each other meaning, relate to others in insignificant ways. if you truly dont want to live, there is no one who can help you. but if you are uncertain, know that you have to stay alive for yourself, first and foremost. but also for others. there is someone out there who needs help just as much as you do, and if you have the chance to help them, i think you should take that chance and see what happens. helping others really does make you feel better, you know. i feel awful all the time, and yet i volunteer, i help people, and it is yet another escape for me. my advice is to find some escapes. find some outlets. and find some people. share, relate, build on from that, and good luck.