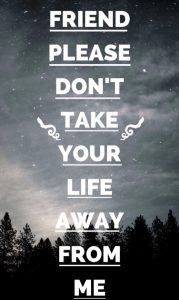 I dunno guys, I mean if anyone is even fucking reading this that is, but I'm used to being ignored so it's okay if no one is. But okay so I was saying: I dunno, this is how I feel about this stuff.
I mean everyone on this website is here for a reason, we all have a certain tendency or perhaps curiosity, we're all at different stages, but whenever I see people actually planning things for real I get so sad. I get sad because I really believe everyone is beautiful and interesting and has had an entire life that I will never understand, and they'll be missing out on things.
It breaks my heart to see broken people that were not given love or support that I think every living thing deserves. It breaks my heart to think about what could have been for so many people. Genuine happiness. You know when you see some people smile and light comes from their faces? And it's beautiful and pure and makes you want to smile as well? I wish everyone had that.
We we are all going to die someday, and it's really shitty that some of us have to be here and conscious for life when we are empty and unhappy. I am a bit of a hypocrite because I definitely want to kill myself and I don't want anyone to want me to stay because I can't. All I can do is hope people are finding comfort here, at the least.