Is it not my time?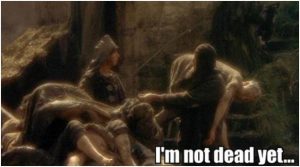 I was actually planning on dying today… or SOME Monday, hopefully when no one is around (which they are right now, but maybe that won't actually matter…), but… I'm really scared…
Why am I so indecisive and cowardly? T_T Why can't I make up my mind with stuff…?
I don't want to work anymore, I hate work… so exhausting and I hate the people…
I want a future and a girlfriend…
And not to share my methods or anything, but I kind of want to talk about how thorough I would be with some of my plans, the ideas that I have, my logical thought process… even if it's something as morbid as suicide.
I suppose if I'm not going to die, I should be set up an account for a dating site… but I'm worried if people would judge me or not for some things…
Maybe I could… make more posts on specific subjects like the ghost thing again too…
Anyways, I'm really bored and don't know what to play. I almost forgot about that Edith Finch thing someone mentioned.
Been watching a lot of NitroRad videos. :p Here's a list of notable youtubers for me.
NitroRad (Game Reviewer/Critic; Mainly Horror and Platformer Games)
ManlyBadassHero (Let's Player of Horror Games)
LavenderTowne (Cute Anime Artist)
It's Black Friday (Perky Goth Chick)
(Not sure why I follow her, I was just wondering if I was goth or not, or could become goth, and I find some of her things amusing, I love her travel vlogs and foodie stuff at least. :p I'm about 50/50 on horror, maybe a bit more, but maybe not 100…)
ExploringWithJosh (Explorer of Abandoned Places)
(This stuff is really cool. :p)
Psych2Go (Psychological Facts)
(I feel a bit iffy on this one for some reason, but their a group of people who say a lot of informative facts on things like anxiety and stuff, usually in a cute art style that you'll might enjoy. :p)
I've also um… got two games around my birthday and just got whatever, wanting two, one that's somewhat new/serious/hardcore/deep and one that's familiar, maybe somewhat silly…
So… I got Rayman Legends, and Nioh. :p Other choices were like Nier, Dark Souls, Bloodborne… stuff. :p
I haven't played Nioh much but have done awesome in Rayman Legends, I 100 percent completed the first three worlds of both the main Legend worlds and the Back to Origins worlds, even all the invasion levels, I'm really good at some games. :p And I guess bad in others. T_T Despite the lower health, Origins and Legends, or at least Legends (invasion levels aside, bosses are arguably harder), is a lot easier than Rayman 1, the only other one I played, I figured there was more death traps there.
I'm also wondering about whether or not I should play some 3DS games again… I almost beat Dragon Quest VII and stopped on that for some reason, trying to level up every  job class to max and get all equipment which is easy but really time consuming, I played a lot of Bravely Default a long time ago and also played a little of Bravely Second also a long time ago but never bothered to finish (way too corny, and i might have gotten stuck. Sometimes hard too, I never beat Airy in the first. :p), and…
I tried to play Monster Hunter Generations again. XD It's hard to explain, but I got really far through the early classes, and man this game lasts forever and is hard as hell, I beat like… the Kut-Ku, Gyceperos, Tetsucabra, Royal Ludroth, Hermitaur, etc… but I can't ever beat a Khezu. 🙁 Some of the best armor is weak to lightning too and comes from the water bosses like the last three I mentioned, which the Khezu does…
That thing is basically a dragon mixed with the Dead Hand from The Legend of Zelda: Ocarina of Time, but with lightning powers, a frankenstein monster of a dragon/wyvern. :p Also has an abominably stretchy head… man I hate that thing. :p It's also fought in the ice area, where you need to keep warm…
That's another thing, the BS gameplay in so many new age games, like eating to have more stamina to run, only so many healing items (10 potions, 10 mega potions, etc…), needing to use about all of them, taking like 30 freaking minutes, a deadline too of 50 minutes, needing to heated up or cooled down in the ice or desert level or you'll lose stamina or health respectively, needing to sharpen your weapon every now and then or you'll attack will be decreased, and worse of all, even with the paintball item (which is limited) is the fact the bosses will RUN AWAY and you have to chase them down. ._.
It's fun as hell to collect things and carve up some monsters and get quest rewards to be a stronger and stronger monster hunter, and the somewhat open nature of it, getting fish, and… using a cat warrior partnr, LOL. XD Whcih I'm not sure if their that good, but you know…
PHEW! Sorry. XD
But yeah, dang I'm totally bored, utterly exhausted, and lonely as hell… and I don't know if I can even kill myself… crap. 🙁
I might talk about posts dealing with reincarnation or some such next.
P.S. Source image comes from Monty Python and the Holy Grail I think. XD I wonder if the others are even good… tried to find something relevant, like the time Harry Potter "dies" at the end of the movies/books, but decides it wasn't his time yet, and came back to defeat Voldemort and got married and have kids and everything he couldn't have done if he stayed dead. :p (Yay? Sounds so simple, not that I necessarily hate Harry Potter though, it's sort of cool I guess, but also sometimes really corny, least the movies. :p).
I think there was a Redwall book similar to this too…
Anyways, I barely remember this line, but I remember the rest of it, I think it was the part that was like "Bring out your dead!" XD
Sorry for rambling a lot. ._. Long P.S. but whatever. :p
Edit
Oh yeah, I forgot something really important! Kind of, weird and disturbing coincidence anyway…
My mom actually messaged me a few hours ago that the freaking dog on her side of the family, my grandparent's/aunt's died today. ._.
She said it was like 14, the dog was a medium/large female dog named Bella, don't know the breed…
It was already old, but I think she said it was also ill with like a tumor…
I also forgot to say that sometimes I'm tired of living from my poor health alone like with digestion. 🙁 And it's strange but even though I guess I never really find the time to exercise, I've been trying to eat healthy as much as I can…
But there's so many mentally stimulating things like being on here to talk and going through various hobbies and maybe needing to write in my diary and so on. T_T
And finally, I keep wondering whether or not I'm going to lose my job… or should quit because I'm never going to get promoted in it… It demands too much from me when I'm always trying my hardest and all this "values" BS really pisses me off, especially since everyone here is like, really annoying…
And I think everyone in my life has always told me I'm supposedly on the worst team of everything ever, like the worst period of class back in school, I think even my boss when reviewing me for something said the other coworkers aren't as enthusiastic as other stores so it's not just me, and so on…
Like, dude, why? I actually try, or at least, sort of try in various things…
Why am I around so many terrible people when I try to be good or at least keep to myself…?
You'd think someone like me would be able to live with a good crowd, but no…
Sigh… I want to sleep forever…