What does it take to be 'normal'? What is it like? How do you process things? What is it like to be happy?
I used to go by the quote,
"Love yourself and the rest will fall into place."
-Melina.
That kept me going off and on for years. That's why I got it tattooed on me.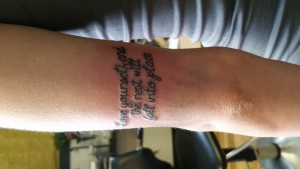 Now I can't even concept how to love myself. The usual;
I'm pretty.
I'm kind.
Caring.
I have a big heart.
What ever. I still tell myself a few things. No matter how much I tell myself, I never seem to let myself believe in those things anymore.
What is this? What am I? Who am I? What have I become?
Nothing, a nobody with not much. A suicidal maniac. With the hope that I get shot in the back of the head some day during a robery or something. Save me the trouble will you? A black hole, not even light can escape. An abyss. My mind is my troubles. Sucking in everything like a tornado. And I mean everything. Once it's entered my mind, something destroys it. Spitting it back up. Let me tell you that it is not pretty.
I hate myself so much.
Tonight I have tunnel vision again, it's been a while. I hate it.
I'm losing my mind. Pretty soon I'll be ready to shut down. And if I reboot, it's never pretty. After each reboot I lose a piece of me.
I wish I could see a percentage bar, to be able to tell how much longer until I finally crack.